The Houston Calligraphy Guild is hosting a retreat on Saturday, February 16, 2019 to Sunday February 17, 2019 and one of our members is teaching a class!
Patti Adams will be teaching Color in Calligraphy. There will be other guild members from around the Southwest teaching classes including Folded Pen, Bernd Letters, and Watercolors.
Learn more and register here!
Read More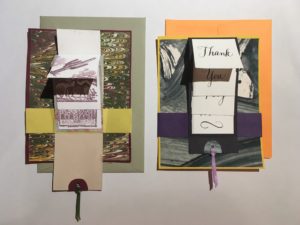 September 15th (This is the 3rd Saturday, we are meeting this day because of conflicts but remainder of year will be the 2nd Saturday of the month.) 9am-12pm
This is a fun card that you can decorate with calligraphy or stamps or drawing or whatever you want.  We will be making the card together in class.
Read More